Apple Computer
Radio Frequency Test Site
California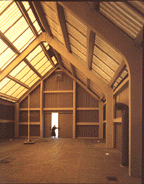 The test facility, sited in an isolated Northern California valley, was designed to blend with the agricultural landscape. The building, including all above grade structural members and fasteners, is constructed entirely of fiber reinforced plastic which is transparent to radio waves. Three 3-pinned arches provide a 30'x 60'x 24'high clear space.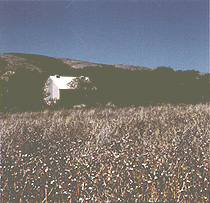 The building is built on a slight promontory which allows all test equipment to be located in a laboratory cut into the hillside under the testing chamber.The plastic in the outer skin was tinted to match the golden California hillside, weathering has made it look as if it has been there forever.