Summer House / Cape Cod
West Harwich Port,
Massachusetts


This summer house, located directly on Nantucket Sound, replaced a small 1928 vintage beach house with a much larger, but equally comfortable family retreat. The house is built in the same Cape Cod style as the neighboring houses and aligns with them as they parade along the beach.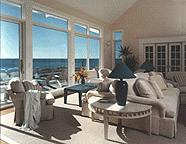 The interior of the house, rather than being cut into small low ceilinged rooms so typical of New England construction, extends, California style, to the underside of the roof. Tall windows and skylights let in the summer light, roll-up hurricane shutters protect the house during winter storms. A balcony connecting the two bedroom wings overlooks the living room and, by extension, the beach and Nantucket Sound.
Home For a Professional Woman
Los Altos, California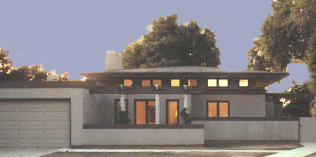 This house, at the end of a short cul-de- sac, is designed in the Prairie Style incorporating large overhangs and high clerestory windows which offer cool light in the hot summer sun.
Wisteria covered trellises at the French doors further shade the house in the summer and open up for light in the winter.
The house, consisting of three interconnected pavilions, is built around the open kitchen since the owner is an avid cook.
Home For An Extended Family
Atherton, California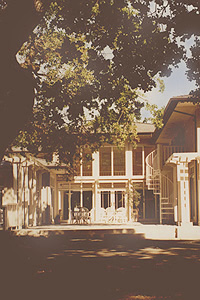 A 27 foot high ceiling soars over the spacious family room, The full height window wall to the garden frames the magnificent oaks and brings the outside into the house. Columns separate the formal living area from the more informal family room. A library and billiard room complete the downstairs suite, an attached pavilion juts into the garden and houses the kitchen and breakfast room.
This six bedroom family home with a detached three car garage and pool house is set among ancient oaks on a pie shaped corner lot in Atherton.